With summer practically upon us, now is a perfect opportunity to take inspiration from the most popular season and get your kitchen update underway! We have put together some kitchen summer trends that we hope will help inspire you…

Summer time is when nature is in full bloom, so bringing the outside in can make your space feel natural and harmonious.
But how can you do this?
Windows – Whether it's tall windows that overlook a green space, a sky lantern integrated into your ceiling, or bi-folds that open into your garden, windows can help bring natural light into your space to create a bright and fresh feel.

Wood finishes: using wood materials with character are great for an organic look. Take a look at walnut, oak or cherry as a starting point!

Decor: Using natural textures in your back splashes, wallpaper or flooring can help create a cohesive natural palette. Try patterns that include wood, stone or grasses.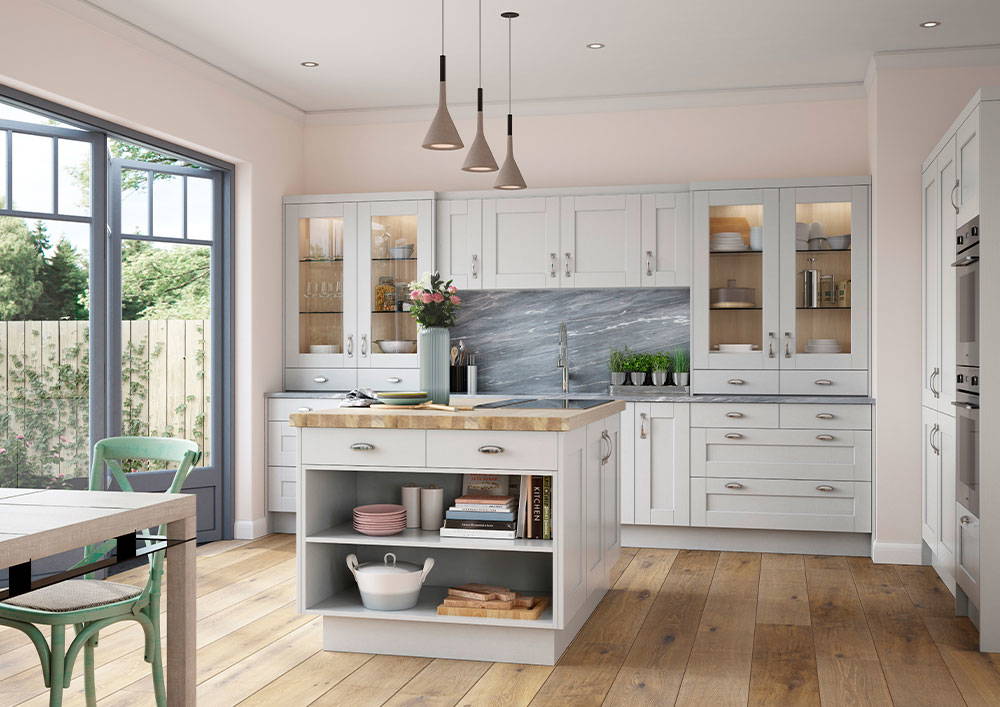 Image above: Lastra shown in White Gloss
Are you a wine connoisseur? Or perhaps you simply enjoy a glass in your garden on a warm summer's evening? Keeping your favourite bottle at the right temperature is important to get the most out of it.
Wine can lose its texture and aroma if it isn't stored at the perfect temperature. You can find dual zone models that can maintain full-bodied reds, or chill your crisp white pinot – ask us!
Wine coolers aren't exclusively just for wine either. They are an excellent place to store other alcoholic drinks, soft drinks or even food if you need to. A very versatile appliance for the summer.
Oh, they are also a great visual feature too!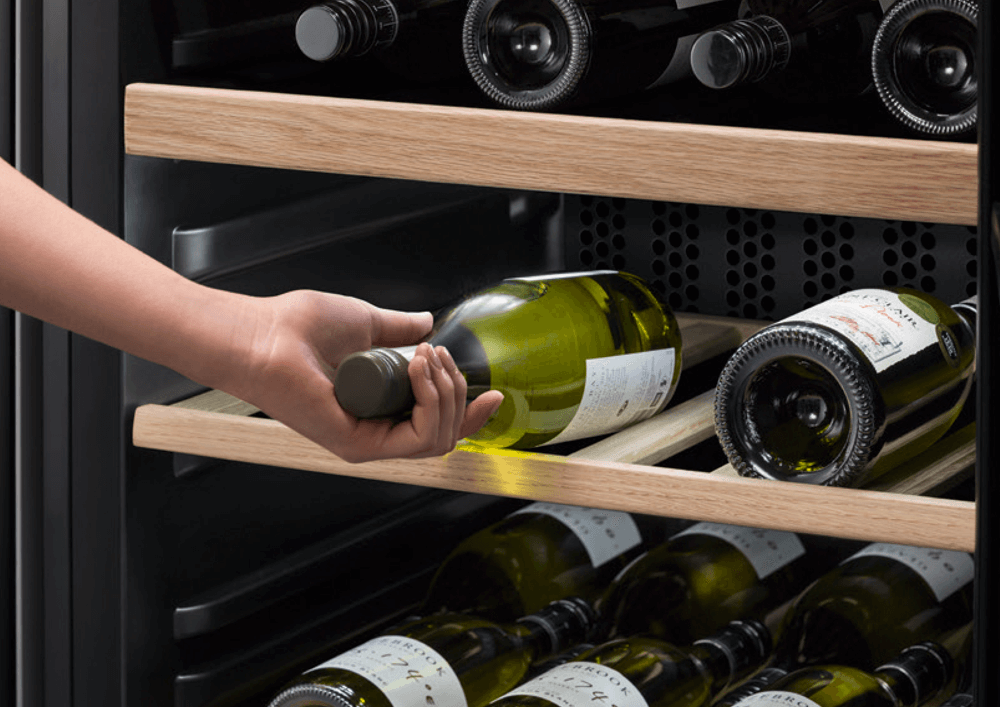 Image above: Fisher & Paykel Wine cooler

Often you will see kitchens built with neutral or dark colour themes. But have you seen kitchens that make use of colour in a softer way?
Pastel coloured kitchens are a relatively modern trend, and depending on how they are accessorised, can change the atmosphere dramatically.
By pairing a pastel colour or two with a wooden toned work top , you can create a more farmhouse / country cottage look.
On the other end of the spectrum, you can pair pastels with luxurious metals or materials like terrazzo. This can help you can make your kitchen feel light, airy and fun without sticking with neutrals.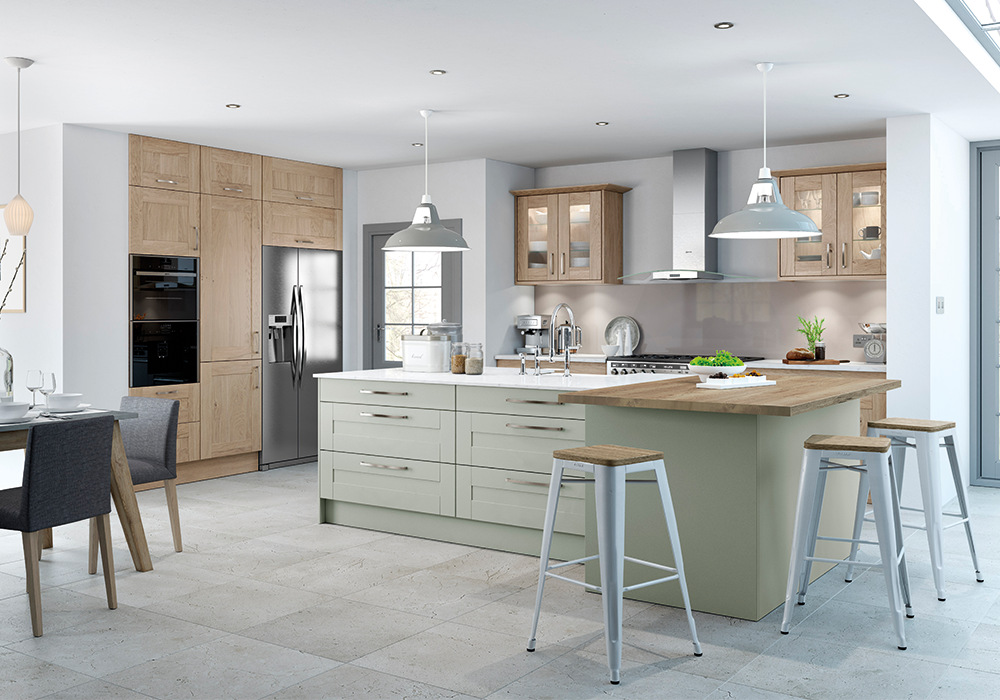 Image above: Painted Sage Green Shaker & Solid Oak Shaker
Not everyone has space for a big kitchen with all the trimmings, and when summer time comes around it's a great opportunity to be able to be flexible with your kitchen space.
The practicality of adding an island that can be moved gives an element of freedom and versatility.
Imagine you have your patio or bi-fold doors open and you move your island close to your patio area. This means you can enjoy the summer weather, or be close to your guests whilst you prepare a meal for them. There are many storage solutions and clever ways to utilise your space better – talk to our design team on space saving ideas!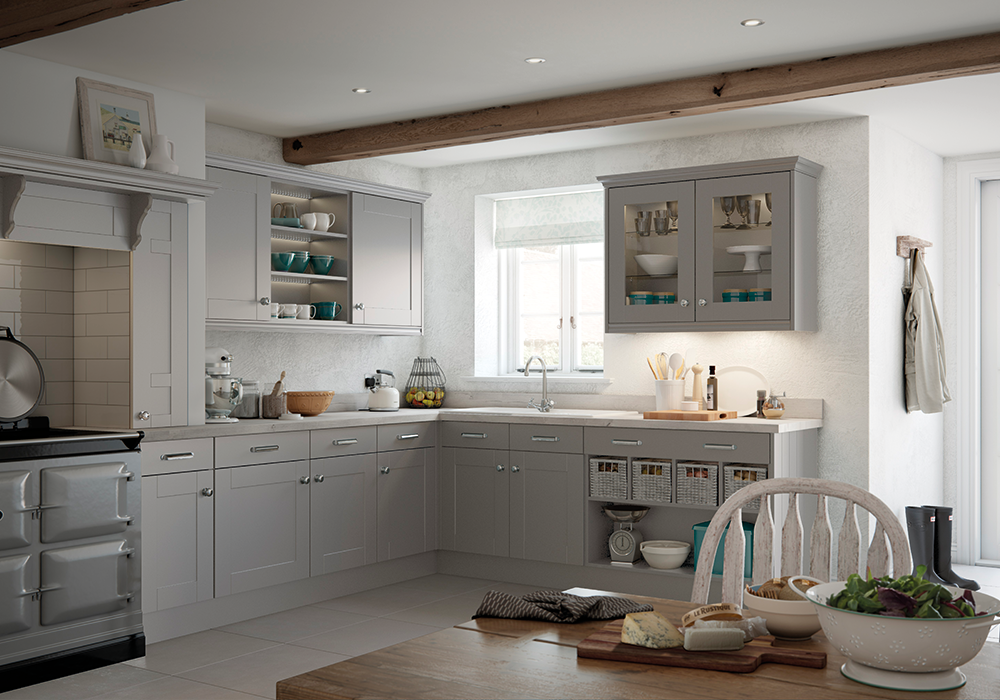 Image above: Canterbury shown in Dust Grey
We would love to help you create your dream kitchen! Book an appointment with one of our friendly team to get the ball rolling. Call the showroom on 01562 542958 or book your appointment below.