Gas vs Induction – Which is best?
It's a question we hear quite often, and the answer really varies on your preference in terms of cooking style and living situation. To help guide you, we have explained the benefits of both options below so you can make an educated decision.

First up, classic gas…
Gas hobs have been around for a long time now, and for good reason! But why is gas a good option for your kitchen?
Precision Cooking: Gas is a simple but intuitive hob. You are able to see exactly what heat you are getting at any time, and can instantly turn the heat up or down. Neff have also created a function to make cooking with gas in this way much simpler, it's called the FlameSelect®, where you choose a number from 1 – 9 to cook with. This means that if you enjoy cooking your food at a certain level, you know to keep that number in mind for next time.
Reliable: With gas, what you see is what you get. It's old school and no matter what cuisine tickles your tastebuds, or whatever equipment you wish to use, gas hobs will see you through and get the job done!
Speciality Cooking: An open flame is a great option for those who enjoy Asian cuisines, such as a stir fry. Anything that requires a wok is a perfect match for gas due to the shape of the wok and the trivet working together seamlessly to distribute heat evenly.
Aesthetic: If your ideal kitchen is a classic / farmhouse look, gas hobs tend to fit into that look very nicely. You can choose between a black ceramic top, or a simple stainless steel.
Any downsides? We think gas is great, but sometimes they aren't as easy to clean and can be time consuming to tidy up when you're done cooking your marvellous creations.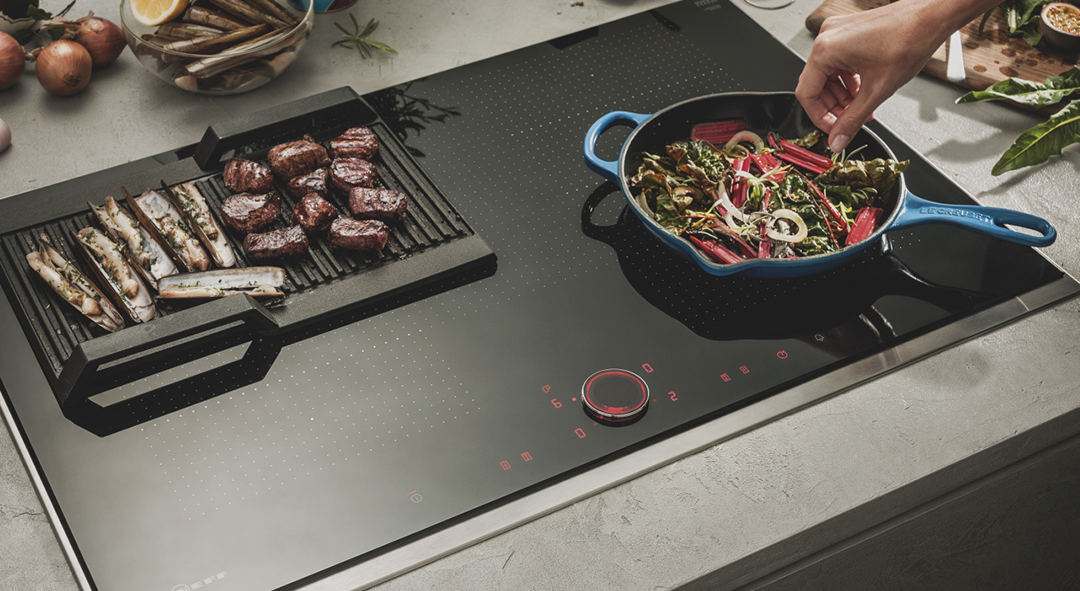 The opposition, impressive induction…
Despite seeming like a relatively new addition to kitchens, induction hobs were actually invented in the 1970's and since then they have become a popular choice for kitchens due to their aesthetic, efficiency and energy usage. So what are the benefits of induction hobs?
Safe for families: A big selling point of induction hobs are for those with children. All Neff induction hobs come with a child safety lock so that it can't be turned on by curious hands. It is also safer in that they don't have an active flame for children to touch.
Speed: Induction hobs have been proven that they are much quicker to boil a pot of water, and provide an even heat with any pot size.
Clever technology: Most Neff induction hobs come with a removable, magnetic dial called the TwistPadFire. This can be a helpful piece of equipment in your kitchen, particularly when controls become difficult due to spillages or grease on the cooktop.
Easy to clean: Due to the flat nature of the induction hobs, the cooktop is neat and clutter free making for an easy clean job when you're finished cooking.
Any downsides? The main negative with an induction hob is that you must ensure you use induction friendly equipment. This is due to the way that the heat is distributed from cooktop to pot, making it important that the pots and pans you choose are designed specifically for induction hobs. As well as this, induction hobs draw a lot of power when in use, so it's always a good idea to check that you have the correct power in place to run an induction cooktop.
 to suit every cook's style…
If you would like to talk to us about making a decision between gas or induction, we would love to hear from you! Book an appointment with one of our friendly team to see how KAW can help you in your kitchen or give our showroom a call on 01562 542958.