5 Clever storage ideas to help you get organised and save space!
Kitchens aren't just cooking spaces anymore. Whether it's a worktop covered in paperwork, or utensils taking up to much space on your surfaces, clutter can take over your kitchen very quickly!
The key to de-cluttering is to channel your inner Marie Kondo and ensure your items have a logical, designated home. This means once your space has well thought out storage, you can go on to use the "don't put it down, put it away" rule.
You can use this blog for inspiration on how to do declutter your kitchen with storage hacks to help make your life at home easier, and bring joy when cooking.
1. Midway Storage
The midway is the wall that sits below your top units, and above your bottom units. Often this space goes un-utilised due to not knowing what to put there – but there are many options that can be included there to help declutter. The hanging rail is the main element of midway storage. It is simply fixed to the wall anywhere in your kitchen to provide space for various items such as:
Foil Roll Holder: A dispenser that fits foil, cling film and kitchen roll for ease of use. This product helps to clear up drawer space where these items may have otherwise been stored.
Hook Rail: Great for hanging your favourite utensils that you use day in day out!
Mini Shelving: Practical storage for oils, ingredients and bottles. Shelving is also an ideal place to keep small dishes or herbs for ease of access when cooking.
Towel Rail: Rather than hanging your towels on your cupboard or oven door, a mounted towel rail can put your kitchen towels in a convenient place to help clear those spills or cover your food.
Knife Block: A convenient, easy to reach feature that makes your knoves accessible without cluttering your worktop.
You can see an example of how midway storage can be utilised below.
These days there are plenty of ways you can utilise drawer space to help organise your items in a neater way. Say good-bye to the cupboard that all of your pots and pans fall out everytime its opened! Here are a couple of ideas you could integrate into your drawers:
Pan Drawers: These drawers aren't just for pots and pans – they can be used to store your crockery like plates and bowls too! They have organisational dividers that keep everything in place when opening and closing the draw.
Spice Drawers: With the 100's of spices that are available on the market, they can quickly get out of control if not properly stored. Spice drawers take away the clutter of spices in the cupboard, and stop you from knocking them all down when searching for the right one!
Smart device storage: This is a little unconventional – but having a dedicated drawer where you can charge & store your mobile devices & tablets when you're not using them will stop wires from getting in the way when you're cooking.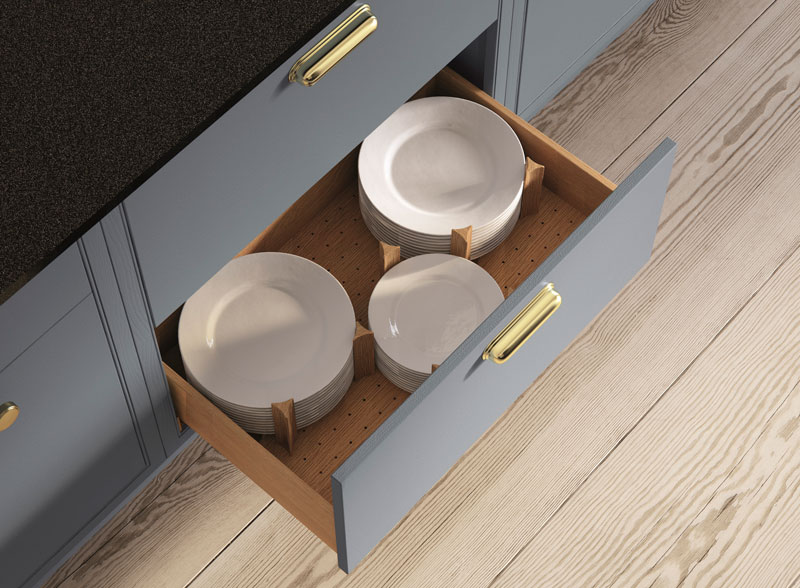 A larder gives you vast storage for your dry goods, often giving you a clear overview of what you have in stock in one glance. Larders come in all shapes and sizes depending on what you require:
Standard Larder Cabinet: This larder is built in with the rest of your cabinets, and often takes up a large portion of your wall space. However due to the size of it, you have all of your dry goods in once place, and even have additional storage options for the backs of the doors for things like bottles or jam jars.

Pull Out Larders: Often found in modern kitchens, all of your groceries can be seen from both sides. This system also stops the problem of food being lost and forgotten at the back of a cupboard. Pull out larders are also ideal for use in narrow gaps where the space would otherwise go unused.

Swivel Larders: Are very similar to Pull Out Larders, where they are pulled out but they are then twisted so it sits parallel to the cabinets – giving even better access.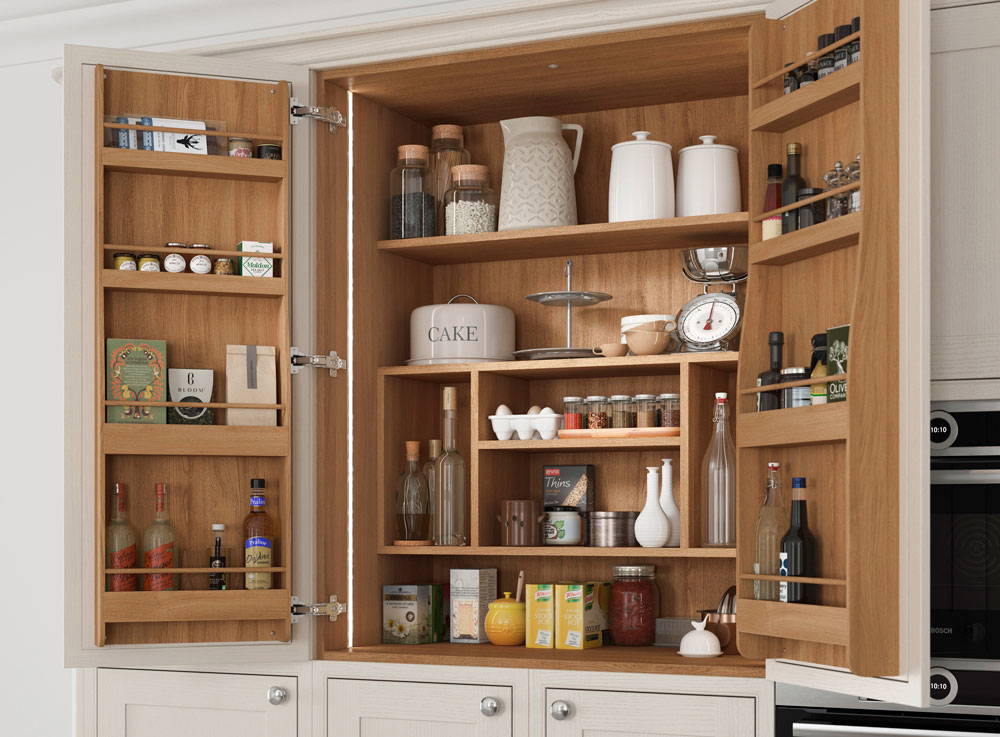 4. Corner Cupboard Storage
Cupboard corners in kitchens are often the most un-used space in the room. This is usually due to the lack of access right into the back corner of the cupboard, leading to lack of practicality. There are solutions that help with this problem that utilise the existing space and making it easier to use:
Carousel Corner: This solution is a carousel for all of your kitchen items. It gives you total control over the rotation of the shelving, meaning you can fully rotate to get the items that are stored at the back of your cupboard should you need it.
Cantilever Carousel: The shelves swing out with this solution, which eliminates the unnecessary need to lift, bend or reach right to the back of the cupboard to see what is in there.
Magic Corner: This solution fits in two shelves into one unit, meaning you're almost doubling your useable space. Once pulled, the front and rear shelves move forwards within easy reach so you can access everything in the cupboard without having to bend down and stretch inside.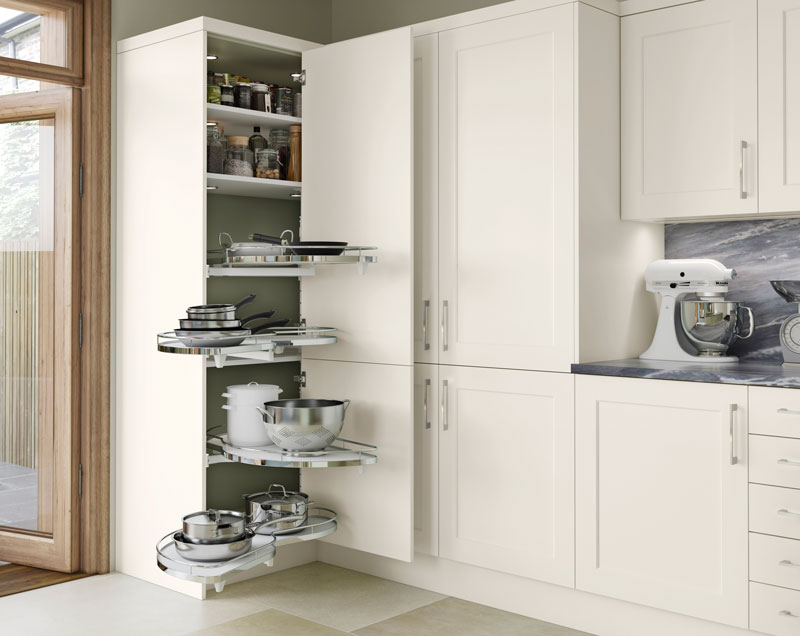 5. Remove appliances & go integrated
Okay so whilst this isn't necessarily a storage hack, integrated appliances CAN help reduce the clutter on your surfaces and make your kitchen look slick, modern and clean.
Remove your kettle and replace with a hot water tap. This takes a fairly bulky appliance off your surface and makes your tap multi-functional for 100's of cooking ideas.
Build an intuitve coffee machine into your cabinets. Again, this saves worktop space and gives you plenty of options when it comes to your hot drink choices!
Microwaves can be built into cabinets now too – an appliance which has a large footprint and takes up valuable prep space!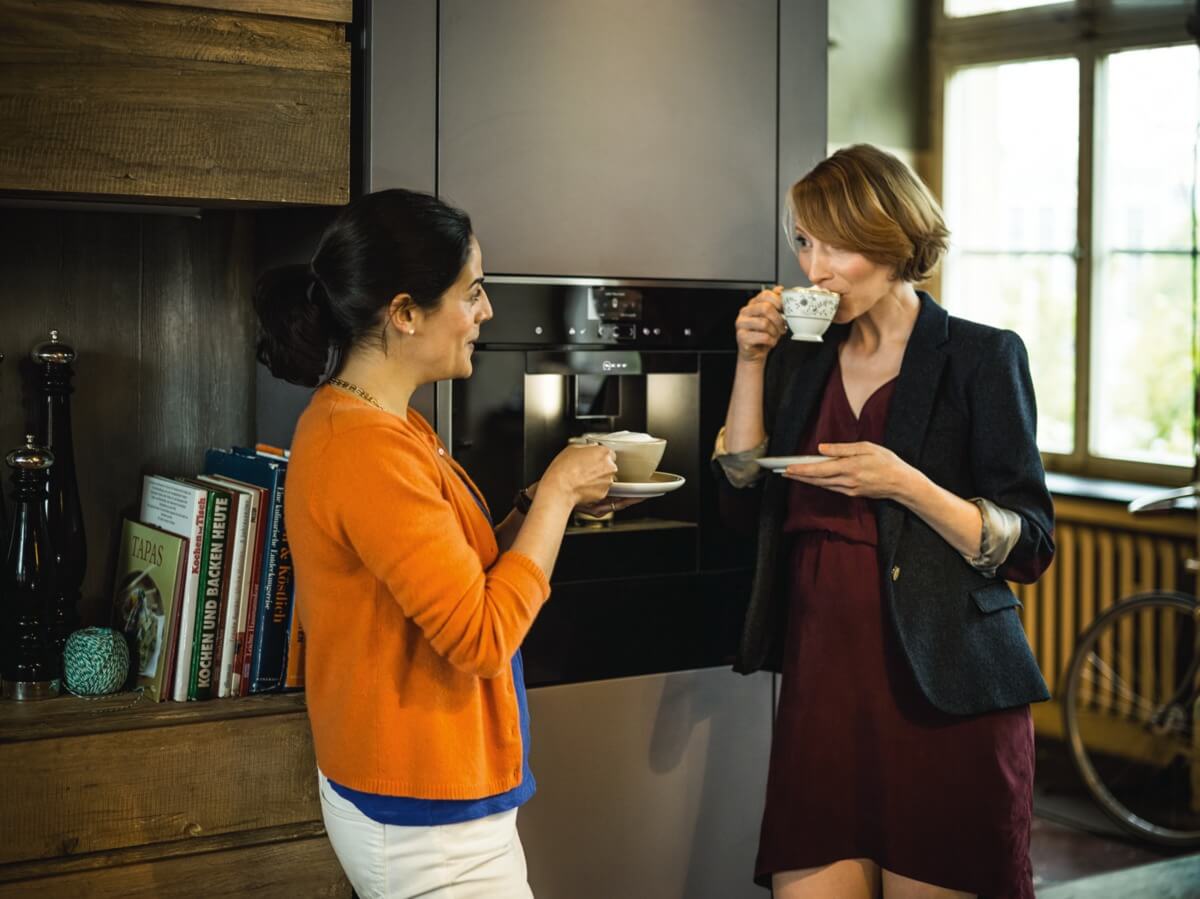 If you would like to talk to us about kitchen appliances, we would love to hear from you! Book an appointment with one of our friendly team to see how KAW can help you in your kitchen or give our showroom a call on 01562 542958.