 HAND SANITISERS AVAILABLE 2M DISTANCE MARKED ON FLOORS GLOVES FOR HANDLING SAMPLES WE ARE OPEN FOR BUSINESS

We have set up a new way of working and want to make the process of designing and quoting your kitchen project as safe as possible and without interruption. To do this we have made the decision to see customers on an appointment only basis and have detailed the appointment options and services available which you can find further down this page.
OPENING HOURS

Tuesday: 9.30am – 5pm
Wednesday: 9.30am – 5pm
Thursday: 9.30am – 5pm
Friday: 9.30am – 5pm
Saturday: 10am – 4pm
Please note that we are working on an appointment only basis. This means that if you arrive to the showroom without one, you will be turned away. You can book an appointment to see us using the form on this page or calling us on 01562 66882.
WHAT WILL HAPPEN ON THE DAY?

Before you leave home, please ensure that you:
Have packed a face mask. These are now compulsory in our showroom.
Are confident that you are fit & well.
When you arrive:
Call the showroom on 01562 66882 to let the team know you are here.
We will check your temperature before you enter the building.
When entering, you should immediately go to the "Clean Station" to sanitise, use gloves and ensure you are wearing a face mask.
Please note when you have entered the showroom, our kitchen expert will lock the door behind you.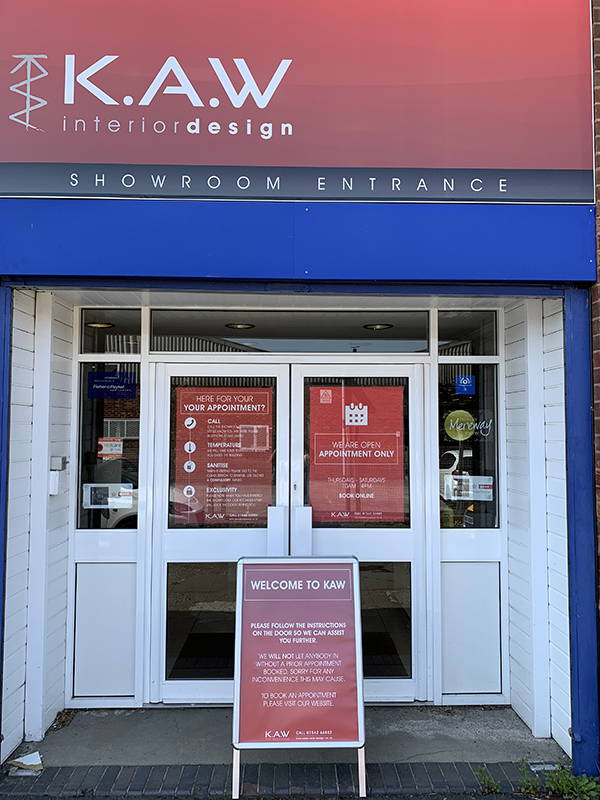 What Appointment Type to Book?
Option 1: Collecting or Returning items

This option is for customers who only need a quick visit which may be to pick up product brochures, collect or return samples or to collect or return goods.
Option 2: Quick visit – Showroom, Samples & Wishlist

Showroom and sample visit with 15 minutes to look at showroom, 30 minutes to look at samples & prepare a wish list of kitchen doors, appliances, work tops etc to be incorporated into a design.
Option 3: Long Visit – Design & Finalise

Design & Finalise. Longest appointment available which normally is to go through finer detail of design and to finalise quote ready to order, based on previous appointment options already been taken.
Option 4: Virtual Experience

We understand that some people may still be reluctant to visit the showroom if they feel vulnerable or on the shielding list. For this eventuality we will be offering a full virtual experience by using several video platforms where we can give you a full consultation and design service. Please book using the option below and your Kitchen Expert will send you the details for your virtual appointment.  
We have implemented a booking system to help you book an appointment to speak with the team face to face
and have a look around the showroom to be inspired for your next project!

WORKING SAFELY DURING COVID-19
We are taking advice from the Government and other relevant authorities to help us keep our team and our customers safe. We have provided some information below which further explains the measures we have implemented. HAND SANITISERS AVAILABLE 2 METRE DISTANCE MARKED ON FLOORS GLOVES FOR HANDLING SAMPLES